A Roundtable Discussion of 3 Table-Mates
3 webcomic creators, squeezed into one table, at an indie book expo. Lets see what happens. That was pretty much our motto.
Dawn, of Zorphbert & Fred — Sci-Fi!
Chris of Capes and Babes — Supernatural!
Krishna of PC Weenies
—
Nerdy Technology
!      
DAWN: As I type this, I am coming down with a cold. 2 convention weekends in a row, that I had to drive 2-3 hours to, really put a dent in my immune system. But between Baltimore Comic Con (right next to Chris Flick!) and now Small Press Expo, I have more money in my pocket, and more experience for the next time, so it was hardly a waste. Tip #1 for me– don't schedule cons back-to-back, and if I have to, stock up on preventative vitamins and get as much sleep as I can prior, AND during.
Small Press Expo is not the traditional comic con we're used to, nor a craft fair or a library event. This is all about independent publishers and creators, celebrating the freedom from editors or syndicates or even bookstores. The crowd definitely had a different kind of vibe than the typical hurried and high-strung comic con; The SPX attendees have a more curious and relaxed demeanor, casually strolling about and taking the time to look at each table. So, Chris, Krishna… looking back on SPX… what was your favorite aspect of this type of event?
KRISHNA: I totally agree with you, Dawn. SPX is a show that's radically different when compared to a "mainstream" comic con. SPX, in a nutshell, is a great place to discover new comics. The most refreshing aspect of SPX is how indie comics focused it is. You won't find many super-hero themed comics for sale here. That, and SPX is one heck of a well organized show – they take great care to make their exhibitors feel welcome. On Friday night, I attended a "meet-n-greet" event – there were lots of great finger foods and each exhibitor was given a free drink voucher. They certainly know how to make a creator feel welcome!
CHRIS: Dawn, you and I were in very similar situations in the sense that we have now done two back-to-back shows essentially together, seeing as we sat next to each other at Baltimore Comic Con. But in my case, I still have two more shows to do. Somehow, I ended up scheduling FOUR shows in four weekends between September and October.
The last couple of weeks though, I started taking multi-vitamins – not in preparation for these cons though, but more as means of trying to get more energy and just being a bit more healthy. I've been very fortunate that I have very rarely ever been bitten by the "con flu" or whatever you want to call it, but hey, I don't think it's a bad idea to add a multi-vitamin to your convention bag. It couldn't hurt. It certainly didn't seem to hurt me.
Now, about the show itself… I knew a lot about SPX already as I used to attend the show as a fan every year and even worked the show one year as a volunteer. I already knew what kind of audience that tends to come to this show. Krishna's right in the sense that it's not a "super hero" con. It's a show that tends to cater to auto-biographical, VERY independent type books and creators. Because of that, I had specially ordered a new set of postcards that didn't have any kind of super heroes on them. It was my spoof of the Walking Dead comic book/TV show… The Walking Bed. I think that went over really well!
DAWN: I appreciate shows that really treat their exhibitors well, and SPX ranks highly in that category. I wanted to give an indie book expo a shot, as I have done the usual super hero conventions, and I wanted to see what would happen when you take away that aspect. The result is a bit perplexing, actually. I am finding I do well at super-hero conventions, despite my work being more geared towards the cute-and-nostalgic comic strip readers, and kids. For me, the key is kids… whether the kids are actually at the convention, or the attendees being young parents. While there were other all-ages type material at SPX, I don't think the bulk of the attendees was quite my demographic. I made a profit, just not as much as I would have hoped.
What Chris said is always a good idea– taking multi-vitamins and using hand sanitizer is something I usually do at comic cons. All that hand shaking and the sheer exhaustion of working a con all weekend, and then heading right back to the regular job… my immune system took a hit. Mind you, I have an autoimmune disorder that already weakens my system, but I would still recommend taking precautions.
Back to SPX, though. I think the only way I was able to come away with a profit, was due to our 3 books-for-$30 deal. I think that many people who took us up on that deal were initially only interested in 1 of our books, and jumped on the option to get all 3 for cheap. Do you guys agree? Was the $5 loss on each book worth it?
CHRIS: Dawn, I think you do well at shows like Baltimore Comic Con BECAUSE there are a large influx of young kids that come to those shows and your Abby book offers them something that's usually a big refreshment from the multitude of scantily clad female super-hero pin-ups that tend to decorate artist alley at the big "super-hero" shows. That's just my take though.
I think the 3-for-$30 deal was a great on a number of fronts…
It offered people a FANTASTIC deal at the show and, like Tyler James said on Twitter and Facebook, people LOVE a deal – and it was a great deal.

I agree that sometimes people seemed interested in only one of the three of our books but with that deal, they were willing to risk an additional $20 to discover not one but TWO new artists they might not have been familiar with.

In some cases, it also opened them up to the possibility of buying additional books from each of us. I know I had one or two cases where someone jumped on the 3 book deal then wanted to get an additional book from me as well. That only happened once or twice but it happened.
In the end, I think it proved beneficial for ALL of us. According to my totals, we made something like 11 three book deals. Sure, we took an initial hit on that discounted $5.00 but in the long run, I would much rather make $110 then possibly not make even half of that, you know?
The toughest thing for me was trying to figure out an easy way to "elevator pitch" all of us together. We each have worked hard at cultivating our individual brands so we each have our own, individual elevator pitches down cold – but it was actually kind of humorous trying to figure out how to cleanly and efficiently sell all three of us together. I think we ended up doing okay but it took us half of Saturday before we found either a good or comfortable rhythm, you know?
KRISHNA: I totally agree with Chris – having the three-for deal really helped goose sales. The up shot of the deal was greater exposure to each of our comics – and hopefully we'll win new readers as a result. I ran out of cards and promo items on Saturday, so I started in with sketch cards that had my URL – no metrics on how those might have done – but in my estimate, someone would more likely check out my site if they were presented a hand drawn sketch.
I agree – the elevator pitch took some time to work out – I feel like I could have done a better job with mine. I think what might have also helped is having a few samples of my comics front-and-center – maybe via an iPad – where people could, at a glance, read my comic to spur interest. Even though I have a PC Weenies vertical banner, I didn't bring it with me because of the extra bulk (and shipping costs) involved – in some ways, I think it may have helped to have one – to present a more unified front for all of our books.
DAWN: I suppose if you look at SPX as an opportunity to get exposure for your work, rather than a ton of sales, it's a great event. $300 for a table, for a 2-day event, is a bit steep, but I think we dealt with it well by splitting a table 3-ways and bringing only the essentials (books). I had a few trinkets and my figurines on display too, which got some attention. If I were to go back to SPX, I would definitely have to split a table again, but maybe just half. $50 extra is worth the space. I have family nearby to help with accommodations, so essentially the cost is low enough for me to consider returning next year. Maybe I'll earn more, as I have seen happen when I do a show for the second time. I certainly sold enough volume 1's, and if the same people return, that could mean a lot of sales for vol. 2 (or 3!). I have to admit though, I'm still a bit unhappy with the earnings, considering the $5 loss per book, and the fact that MOST people at this event paid using Square, which deducted even MORE. That, and we got tax forms for our earnings from this show, it seems Maryland is cracking down on events like this as they DO bring in a lot of money.  Something to keep in mind for next year– might want to mark UP our books to compensate for Square's fees and taxes. What else did you take away from this show, guys? What would do differently NEXT time (if you would go back)?
CHRIS: I'm totally in camp with a lot of what you said, Dawn… Being that SPX is practically in my backyard (in terms of other conventions I go to) and that I knew more than half the artists that tabled at SPX (or, at least it seemed like I did), I would definitely come back and do the show again as a split table – mostly because that would give me a little extra room to display original art and maybe get a commission or two out of the show. It's still too expensive – in my view – to garner a full table as a solo act but yeah, if you think you're interested in coming back next year, I would be willing to split a table with you again.
I totally agree on upping the price of any book deal simply because of all the extra "little costs" like Square's little piece of the pie or Maryland's tax collectors wanting theirs too.
I'm not sure exactly what I would do differently though. Because I was so familiar with the show already, SPX pretty much was right on target for what I expected and, because we did split the table three ways, it maybe even exceeded my expectations a little bit. I knew I was going to have fun having a table with both you and Krishna, so I really wasn't worried about that. I went in to this show thinking that is was just going to be a "fun" show for me… I figured, if I didn't make a $100 back, I still had three more shows coming up where I could easily recoup whatever money I might lose from the show. Turns out I didn't so for me, it was all a win-win situation. I got to spend an entire weekend with the two of you… as well as a few other artists I hadn't seen a while.
Maybe the only thing I might have done differently was make sure I had plenty of stocks of books as I have quickly come to the realization that, although it might APPEAR great to have "sold out" signs on various books on your table, it's really not all that great because then, there's really no reason for people to come by your table and check out anything else you might be doing. But having four shows in four weekends, there wasn't much I could do about that.
Anyway, that was all of my take-away from the 2012 SPX show.
KRISHNA: As SPX is my last show for at least the next two years, I'm planning for the future. I think lower priced items tend to do better. I had multiple items on my section of the table. The cheapest book (PC Weenies / UNcubed Sampler #2) was priced at $4 and was an easy sell. When the price goes above $10 there is more of a commitment to be had on the potential reader's part. I think the next time around I want to have an UNcubed book – because I feel that the audience would respond more to that than something as tech-centric as PC Weenies. For me, after all the expenses were computed, I broke even. But what the show did for me is give my comics more exposure. Nearly every book I sold went to a new reader. Will I do SPX? Absolutely. Will I share a table? You bet ($300 is too much – but $150  between two people seems like a better balance).
—————————————————-
That's a wrap folks. Would YOU step outside the typical comic con, and try out an indie book expo like this? What other events do you think would be good to try out?
Pictures! Because Everyone Loves Pictures!
no images were found
And a VIDEO!
Mind, you.. this is closing time on Sunday. Otherwise, a mass of people would have been blocking every table.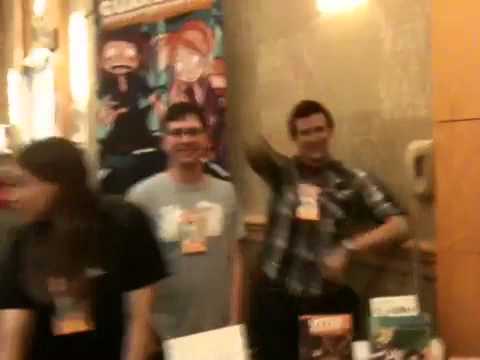 ---
Dawn Griffin is a self-described "crazy chick". She likes steak, Cleveland sports, video games and oh yeah, comics. She spent her high school years either playing street ball, pitching, or drawing comics and submitting them to syndicates. Once she –accidentally– discovered the world of webcomics, the sydication route became a pointless hurdle. After all, "Crazy Chicks" do things their *&%$ selves. Dawn is the mastermind behind Zorphbert and Fred, and the illustrator of the Abby's Adventures kids book series. She can be easily bribed with ice cream.