Here at the Alliance, a picture may be worth a thousand words, but a VIDEO…. well, that's just GOLD. So, while we have mastered the art of writing about drawing, how about we actually show you what we do. Once a month, we'll post a VIDEO of our process- drawing, sketching, inking, coloring, or any other parts of comic creation. Feel free to ask questions and leave any feedback in the comments below.
First up, Dawn shares her sketching process, as she starts a comic for her commissioned monthly comic "Bax & Cleo", for VetDepot.com.  Dawn uses Adobe Illustrator, on a wacom-enabled Gateway Tablet Laptop.
Enough Blah Blah Blah, More DRAWING!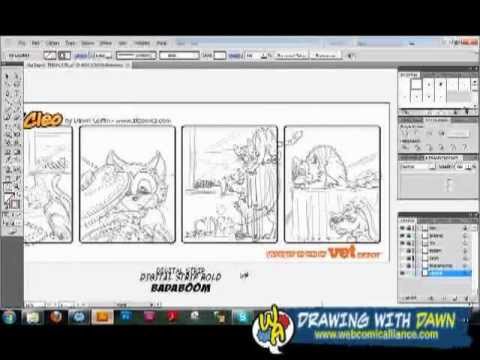 ________________________________________________________________________________
Dawn Griffin is a self-described "crazy chick". She likes steak, Cleveland sports, video games and oh yeah, comics. She spent her high school years either playing street ball, pitching, or drawing comics and submitting them to syndicates. Once she –accidentally– discovered the world of webcomics, the syndication route became a pointless hurdle. After all, "Crazy Chicks" do things their *&%$ selves. Dawn is the mastermind behind Zorphbert and Fred, and the illustrator of the Abby's Adventures kids book series. She can be easily bribed with ice cream.