The Webcomic Alliance has been around, officially now, for 5 years. We've managed to build up quite a library of "Pick of the Month" comics to promote for you fine readers, and fellow creators. For a while there, back when we were new & overzealous, we had Pick of the WEEKs, even. That's a whole lotta comics.
Which is why I searched not once, not twice, but THREE times through our archives, convinced I must have made a mistake. How could we NOT have featured this outstanding, dependably witty comic, PC Weenies? By Alliance pal Krishna Sadasivam? *digs once more* SERIOUSLY? This webcomic had been around for a VERY long time, beating many of us here, even if you combine some together! On October 21st, 2015 (YES, also BTTF Day!) Krishna and PC Weenies celebrated 17 (S-E-V-E-N-T-E-E-N) years of awesome tech 'toons. For that, he has our applause and wide-eyed gaze of pure astonishment. Now THAT is a lotta comics, a lotta content.
Way to make us look bad for celebrating 5 years, Krishna ;0)
Calling all Tech Geeks and IT Pros!
Well, if you are a tech geek, you've probably frequented CNET to get some solid reviews on your next coveted gadget… and thus, you've probably come across PC Weenies as it was the first webcomic to appear regularly there. And that means YOU, my friend, are precisely its demographic.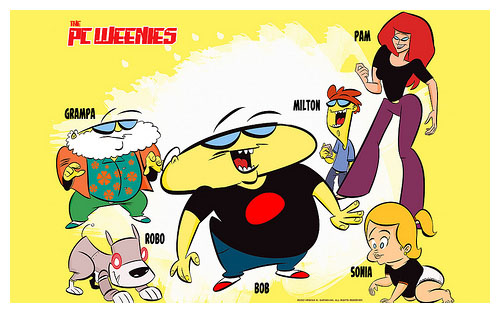 The comic focuses on the Weiner family, who make the Geek Squad look like a bunch of grandmas still using rotary phones and typewriters. At the core is Bob, a headstrong IT tech-head who prefers his gadgets to friends and family most days. Luckily his wife Pam whips him back into shape when needed, also a certified nerd as a game developer. Their hacker son Milton, and the "Destructor" Sonia bring the next generation of geekdom, but there's also Grampa who reminds the family of the outside, non-digitized world.
You can tell Krishna struggles with balancing his tech life and his family life, and he fears becoming like Bob: fully absorbed by his logical & dependable relationship with technology. So much so, you see Bob break down when the internet or his gadgets taken away for whatever reason. In today's age of social media relationships and anything and everything being processed via software and electronics, we all deal with this struggle, making the comic quite relate-able even if you're not a tech-head.

No doubt the pop-culture-geek and tech-geek worlds collide often in this comic… dropping references, seizing topical opportunities, and maximizing it's appeal in any corner of the Nerd-verse. Not a bad idea, when most who read comics or webcomics are going to be immersed in that same culture.
Did I mention geek culture? Krishna does an excellent job of making fun of Bob for being excessively nerdy, but in that "I can pick on my own family" way. Bob's obliviousness here is a perfect example that even the most analytical and logical minds can have glitches.
If it weren't for Grandpa, I don't think the Weiners would leave the house. Or, leave the range of Wifi. Leave it to Krishna to weave a Linux joke into an overarching message of finding balance, and fresh air, in nature.
The PC Weenies illustration style is unmistakable. If you flip through his portfolio, you'll see his art style applied to many different projects: posters, caricatures, pinups, ads and more. This is a core necessity for illustrators– a signature style that no one can deny is YOURS. The sleak and varied line work, the simple exaggerated dynamic character designs, the careful designer-ly attention to the balloons and typography. PC Weenies isn't much of an action-packed adventure type comic, so Krishna's eye for composition and his bold, striking palettes really help spruce up what is essentially a lot of talking heads. His use of detailed backgrounds is selective but deliberate, when necessary for the dialog and story.
As you read, keep in mind how long this comic has been running. Thankfully, the speed at which our technological capabilities expands really allows for endless content and keeps the jokes fresh. If Krishna should wish, he could keep writing/drawing this comic until the robots take over. It's fun, at least for us, to look back to where it began, so with apologies to Krishna, I bestow upon you the first posted PC Weenies comics blow:
Now, the cherry on top when it comes to PC Weenies is the bonus reviews Krishna does of all his gadgets! From the fancy drawing tablets, and that iPad pro you've been hearing about, to new operating systems, even his electric car…. you can turn to Krishna's blog to get some good insight on how the latest tech gear and software may help or hinder you as a cartoonist…. and a fellow tech-geek!
Keep up with Krishna, and all his tech-review awesomeness, at http://www.pcweenies.com, or on TWITTER or FACEBOOK. And maybe wish him a happy 17 years as a pioneer in this field!
——————————————–
Dawn Griffin is the resident "crazy chick". She likes steak, Cleveland sports, video games and oh yeah, comics. She spent her formative years either playing street basketball, pitching, or drawing comics and submitting them to syndicates. Once she –accidentally– discovered the world of webcomics, the syndication route became a pointless hurdle. After all, "Crazy Chicks" do things their *&%$ selves. Dawn is the mastermind behind Zorphbert and Fred, and you can find her portfolio site HERE.  She can be easily bribed with ice cream.