PBS Off Book released a short documentary about webcomics on their YouTube channel, and featured a number of established authors discussing the interesting dynamic between their creations and the people that read and share them. You get to see glimpses of what makes the minds of Christina Xu of Breadpig, Nick Gurewitch of Perry Bible Fellowship, Sam Brown of Exploding Dog, Lucy Knisley of Stop Paying Attention, and Andrew Hussie of Homestuck tick. It's a great little video which will leave you nodding your head and dishing out some internet high-fives in agreement.
If you haven't seen it, take seven minutes of your time to soak it all in. If you have seen it, watch it again.
Then after the jump, we'll have a little chat about it.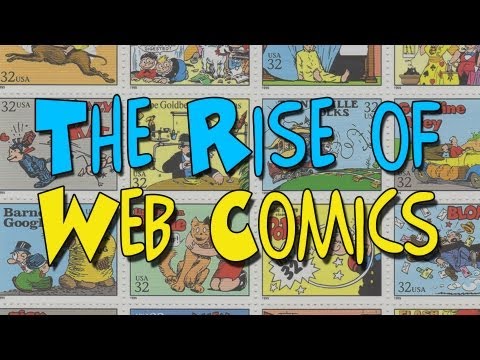 The Take-Away
Although this is a super-short look into the realm of webcomics, we begin to see that the media is slowly starting to come to the realization that independent authors have the means and the capacity to be prolific publishers of content. Without coming out and saying that traditional media is the ONLY way to get noticed, PBS does a good job of letting the authors talk about the freedom of being an independent creator and how the ability to be unlimited in scope, content, and format allows for some really amazing things to happen.
Take Homestuck for instance.

Here's an atypical webcomic that blends the nostalgia of old 8-bit point-and-click video games with some non-sequitur type action and an unconventional way of displaying all of that in a neat little package. Can the world of print do something of this magnitude? Unfortunately not. Only now are we seeing the traditional publishers trying to move into forms of interactivity with their comics (remember Marvel's Motion comics experiment? oh gaaawwwd, nooo) but they have yet to crack the elusive code to success.
On the other side, you have humorists like Andrew Gurewitch from The Perry Bible Fellowship, who can explore the ability to take situations and observations of things and warp them to make them uncomfortably funny but inappropriate according to the boundaries of etiquette in society. Like this joke, for instance – would you be able to see that in your local newspaper? Probably not. But put it on the web and it becomes one of those strips you pass along to your friends and easily share in the amusement and marvel at how a cheeky gag with a simple concept can get most people with an appreciation of dark humor to laugh. Can a watered down comic strip in a local paper do that? It can't – because publishers are too bound by the need to be the bastions of content that is morally right and devoid of content that MAY offend.
This tends to create watered down, bland content that has been rehashed and recycled and placed in front of readers because it is safe.
The Verdict
I'm glad that PBS took a bit of time to give us this cool little vignette on webcomics, and to elevate our standing amongst other forms of media. You and I have known for a long time that webcomics are a viable source of entertainment and have enough quality and originality to be profitable and worthy of praise. It's just a shame that the traditional outlets haven't been as accepting. But with short films like this, and the upcoming mega-doc STRIPPED, we should start to see some mainstream exposure and finally be appreciated for the work we've put in. After all, we're all in the community of providing enjoyment to others by sharing our work. Why should we be derided for it?
Andrés ' Drezz ' Rodriguez is the author of the neo-noir Online Graphic Novel El Cuervo. He provides WA readers with periodic articles (like this one) to help improve their comic skillz so they can pay their bills. Feel free to follow him on Twitter at @DrezzRodriguez