If you're a business-minded creator, you know it's best to keep up with the latest news in our ever-growing field. With print comics, webcomics, newspaper comics, all mingling together and fighting for attention, it's interesting to see which gets the lime light and why. It's exciting to be ahead of the curve, but this is also a fast-paced roller coaster medium. Strap yourself in and keep both eyes forward, it's amazing what you'll miss if you're not paying attention.
Lets see what's going on out there….
R.I.P., Joe Kubert
I'll give you the sad news first. Joe Kubert, influential comic book artist (Hawkman, Tarzan, and war-based graphic novels for D.C Comics), died on August 15th at the age of 85. This is a huge bloe to the comics indistry as well as his own Joe Kubert School of Cartooning.
"Joe was one of the most important artists to ever work in comics, as evidenced just by the vast number of other artists who started off copying his work, learning from his work and — for a lucky group — attending his school," comics writer Mark Evanier said. "He drew with intensity and testosterone and a sense of drama, and somehow made it look easy and impossible in every panel."
I actually had the honor of being accepted into his school, though I chose to go elsewhere, and I also had the pleasure of seeing his live panel at the New York Comic Con in 2010: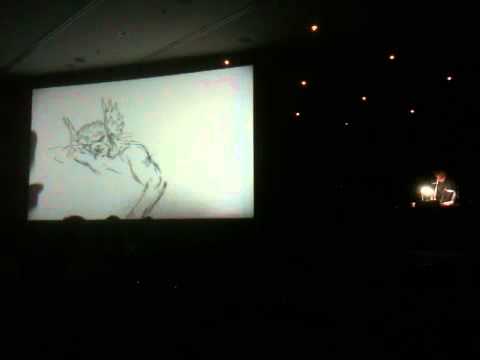 Sharing vs. Stealing

This is an interesting read detailing the disputes between the popular The Oatmeal humor website and FunkyJunk, a blog that is becoming known for reblogging others' material. The outcomes of the dual lawsuits is quite amusing– how it was handled by the Oatmeal was equally clever as their own material.
"Scott McCloud has said as much in his seminal works on what he refers to as "sequential art." Because web-based comics have become more popular and easier to produce, independent artists can carve out a digital niche for themselves and their artwork. But how do issues of ownership and artistic rights play out on the internet?"
High Art Meets "Low Art"
It's a shame to say, but for a long time many considered comics to be a low form of art, which is why Roy Lichtenstein's 70's paintings were so controversial. Read how and why he was influenced by comics, and ponder the debate over what makes art "serious", and what is a "parody".
"Lichtenstein was already a favorite target of mainstream media, which regularly made a mockery of him in order to preemptively discredit artwork that seemed to make fun of them. Even writers sympathetic to Pop art gave him more acknowledgment as a satirist than as a 'serious' artist."
Update on the Penny Arcade Kickstarter
If you listen to our podcast, you may have heard us discuss the controversial Penny Arcade Kickstarter that would remove ads from their website, if met. Well, they are more than one-third along, on their way to their largest "stretch goal" of $1.4 million. There are, of course, critics:
"A Eurogamer user, Captain_carl, wrote, "Even if it does succeed (the Kickstarter), it's still stupid and sets a really bad precedent. 'Kickstarter' – the clue is in the name. It should be for kickstarting business ideas that can't start otherwise. Things like great games, games consoles, wacky inventions, whatever. It should not be used by two millionaires so they can take adverts off their site for one year."
Richard Thompson Retires Due to Parkinson's Disease
Some things are really just not fair.
On Friday, August 17th, Richard Thompson and his syndicate Universal Uclick made the announcement that Richard is retiring from his comic strip, Cul De Sac, for which he won a Reuben Award. The symptoms of Parkinsons' Disease slowly but surely took over, making it harder for him to produce his acclaimed comic. From Richard himself:
"I've known for a year or more that I was working on borrowed time. My lettering had begun to wander off in 2009, but that could be fixed easily enough. But when Alice's and Dill's heads began to look under-inflated last winter, I figured I was losing control of the drawing, too. When I needed help with the inking (the hardest but most satisfying part of drawing the strip),well that was probably a tipping point. Parkinson's disease is horribly selfish and demanding. A daily comic strip is too and I can only deal with one at a time. So it was a long, gradual, sudden decision."
As some of you may know, a piece I submitted was chosen to be included in the "Team Cul de Sac: Cartoonists Draw the Line at Parkinson's" collection for charity, raising funds for Parkinson' research. It's a cruel twist of fate to lose a battle against a disease that strips away your ability to do what you love. Please consider donating towards this fund.
---
Dawn Griffin is a self-described "crazy chick". She likes steak, Cleveland sports, video games and oh yeah, comics. She spent her high school years either playing street ball, pitching, or drawing comics and submitting them to syndicates. Once she –accidentally– discovered the world of webcomics, the sydication route became a pointless hurdle. After all, "Crazy Chicks" do things their *&%$ selves. Dawn is the mastermind behind Zorphbert and Fred, and the illustrator of the Abby's Adventures kids book series. She can be easily bribed with ice cream.